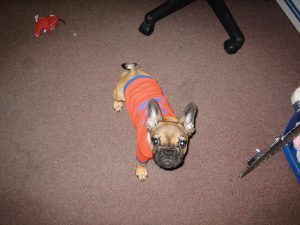 In honor of Dr. Kristin Kirkby Shaw's alma mater, the University of Florida, CARE created a new recipe your dog is sure to love on warm days – the Gator Pupcicles! It's made with pumpkin and blueberries and takes just a few minutes to prepare.
You'll need: 
1.5 cup frozen blueberries
1/3 cup fat-free Greek yogurt
1/3 cup canned pumpkin
1/2 tsp ginger
1/2 tsp cinnamon
4 oz water (adjust as needed for consistency)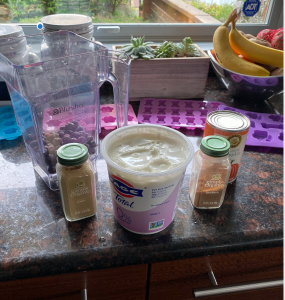 To make your own Pupcicles: 
Add everything to your blender and blend until smooth. Divide into ice cube trays or silicone mold trays, (see here for an example)

It makes 26 small treats or 8 medium-sized treats. And as you can tell by Arrow, below, your pup will be excited about these homemade treats!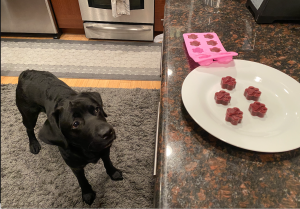 NOTE: Treats, especially ones with healthy ingredients like these, can be fun for your dog but make sure you limit the number of treats your dog gets in a day. When our dogs get treats, account for those calories in their daily caloric intake. One of the ways our dogs put on extra weight is by eating treats and not having their calories in their meals adjusted accordingly.