The Dog Inspirations Behind CARE
I know how it feels to want to help your beloved dog live without pain because I've had to deal with arthritis in three of my babies. I want to share with you the stories of my dogs, who are my "children," best friends, teachers, and the inspiration behind CARE.
Bella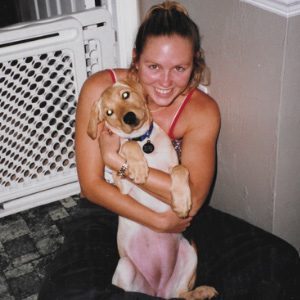 I adopted Bella, a yellow Labrador, when she was 8 weeks old and I was 21 and about to start vet school. Bella was spayed when she was 4 months old and did not show any signs of hip dysplasia as a puppy. She was my best friend; she was there with me through every highlight and challenge of vet school and young adulthood.
When I graduated, we moved from Florida to Colorado for my internship.
Together, we enjoyed all the outdoor activities Colorado is known for, but unfortunately, Bella started to limp on her back legs after playing or hiking. X-rays showed that she had severe hip dysplasia and associated arthritis. She was 4.5 years old and definitely not overweight (my dad used to tease me that she was too skinny). I tried pain relievers, but she still limped. This was 2004, so we did not have many of the options that are available today for managing arthritis.
So, Bella had a total hip replacement. She ultimately recovered very well from surgery, but it was a very emotional experience for me for the 4 months of recovery. The surgery absolutely worked, and Bella was able to hike and play ball again for several more years.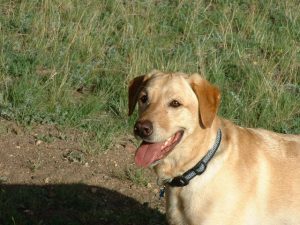 We moved back to Florida for my surgical residency and Ph.D., and when Bella was about 9 years old she started having trouble with the other hip. At that point, I was a Certified Canine Rehabilitation Therapist and had founded the University of Florida Small Animal Rehabilitation and Fitness Center. So I was able to manage Bella's pain and mobility using many of the methods highlighted on CARE.
When Bella was nearly 13 years old, she developed bone cancer around her total hip replacement implants. I said good-bye to my best friend on January 21, 2012. We planted a tree in the back yard with her ashes, and every day I could continue to talk to her. In fact, my husband proposed to me by tying the ring around one of Bella's tree branches. We eventually moved and I had to say good-bye to Bella all over again. It truly felt like my heart was breaking again. Today, with Bella's help (through videos, pictures, and stories), I teach veterinarians around the world how to diagnose and treat arthritis.
Bailey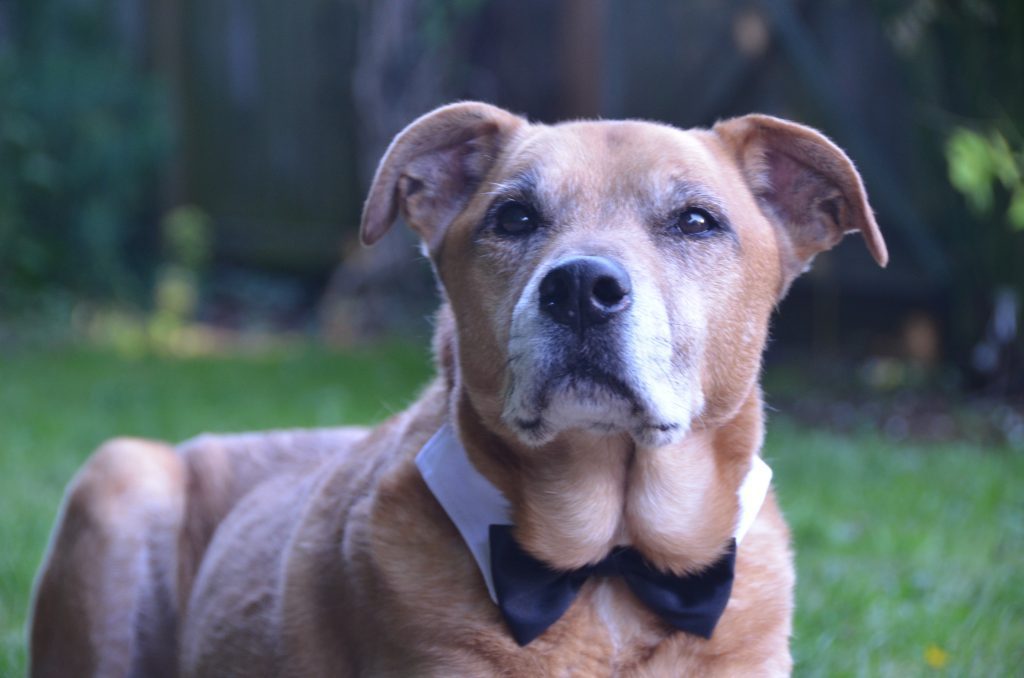 Bella had a brother, we called him St. Bailey. He was a "Florida Brown Dog" which means a mix of pit bull, Labrador, and probably several other breeds. Bailey was my running buddy and demonstration dog when teaching vet students to perform an orthopedic exam. He was as strong and healthy as he was sweet and tolerant.
It wasn't until we had moved to Washington and Bailey was about 12 years old that he started to slow down. He had developed arthritis in his front feet and low back, but worse, he had developed chronic maladaptive pain. Bailey taught me how hard it is to know if your dog is in pain. Whereas Bella limped or couldn't jump up when her hips bothered her, Bailey really didn't limp. He just didn't want to interact or do things with us anymore. He just wanted to sleep in his bed.
I tried pain medications, laser therapy, acupuncture, stem cell therapy, ESWT – many of the things that CARE recommends and covers. But after 2 years of trying to help Bailey, we lost the battle of managing his chronic pain. Ultimately, he did not want to be pet or touched. I could not find any sign of cancer or other illness; he just was sad, depressed, and in pain. And that was so, so much harder for me to cope with than Bella's diagnosis of cancer.
On September 21, 2014, we said good-bye to St. Bailey. I felt like a failure to my sweet boy and I vowed to never wait so long again, with my own dogs or patients, to get on top of treating pain and arthritis. Bailey's videos, pictures, and stories help me teach veterinarians and clients about the importance of early recognition and treatment of arthritis and pain.
Beans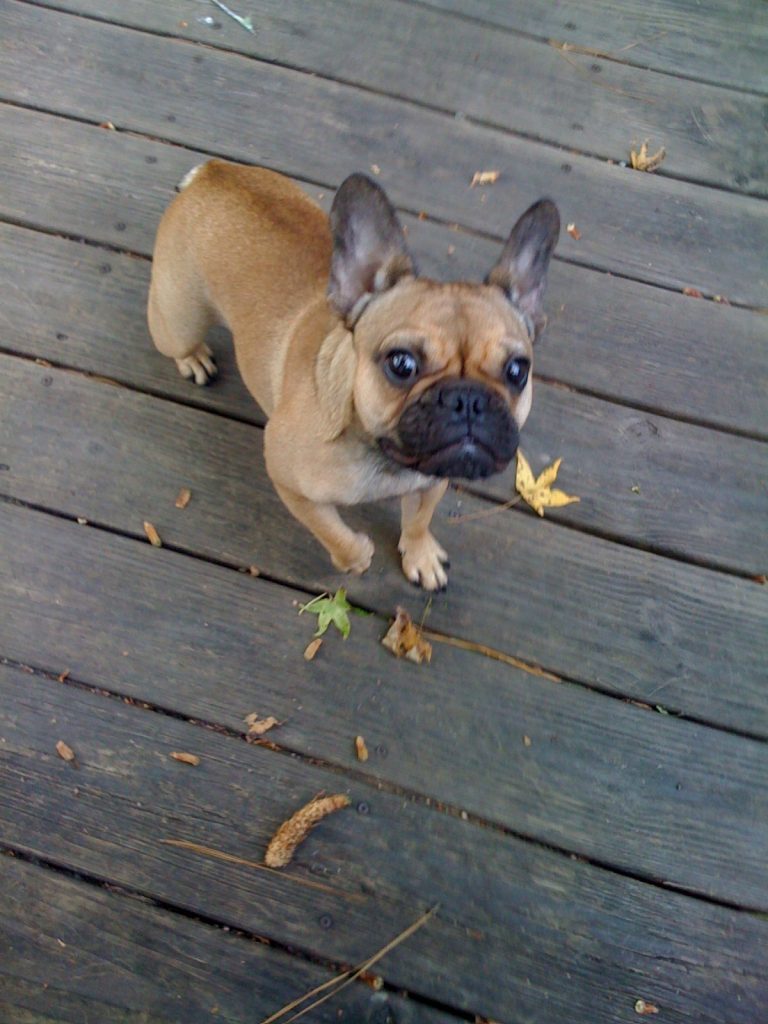 Bella and Bailey had a sister. Beans is a French Bulldog who was born with a birth defect and was going to be euthanized the day she was born as a c-section at my hospital. I adopted Beans the day she was born and had to tube-feed her every few hours for the first 6 weeks of her life. Beans is as close to a baby as I will ever have.
From the time she was 6 weeks old, I could tell that she had severe hip dysplasia because I could feel her hips pop in and out of the socket when she walked or sat on my lap. This has led to severe arthritis in her hips.
As a Frenchie, Beans has had a host of other medical issues that have been, at times, life-threatening. But she is now 12 years old and as energetic and mobile as she was when she was 5. You'll see Beans throughout the CARE website demonstrating how I help manage her arthritis and pain and keep her living as active of a lifestyle as I would recommend for a Frenchie!
Arrow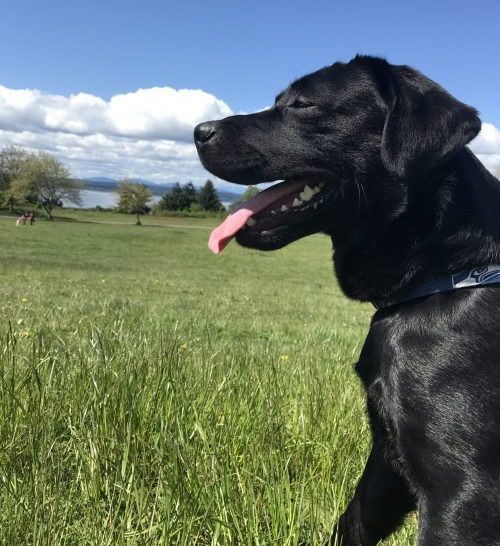 Beans has a brother who is giving Bailey a run for his saint-hood. We brought Arrow, a black Lab, home when he was 10 weeks old. In my humble yet professional opinion, he is perfect! However, it could be argued that I am crazy dog-mom (we may or may not have had a puppy shower when Arrow came home). Or maybe I'm just like you?
With Arrow, we have the opportunity to do everything we can to prevent him from developing joint disorders. And if or when they occur, I will be obsessive in my comprehensive management and search for additional treatment options.
You'll also find Arrow featured on the CARE site, as I share how I'm working to prevent arthritis and keep him as healthy and active for as long as possible. Dog owners, learn about the common symptoms to tell if your dog is in pain.
Get Started Veterinary professionals, access tools to help diagnose and treat your patients.
Try in your practice