Dr. Kirkby Shaw
Dr. Kristin Kirkby Shaw is a small animal surgeon and rehabilitation specialist whose career has focused on bridging the gap between these two disciplines. Kristin received her DVM from the University of Florida (UF) in 2003, followed by a rotating internship at Veterinary Specialists of Northern Colorado, and a small animal surgery residency at the University of Florida. Kristin completed both her MS and Ph.D. at UF.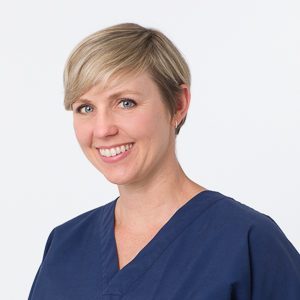 As a surgical resident, Kristin recognized the need for rehabilitation for her patients and took graduate courses in rehabilitation science, exercise science, and therapeutic modalities. She attended Northeast Seminars/ UT Canine Rehabilitation courses in 2007, followed by the Canine Rehabilitation Institute in 2008, where she became a Certified Canine Rehabilitation Therapist (CCRT).
In 2009, she became board certified in veterinary surgery (DACVS-SA). Following her residency, she remained at UF as faculty in surgery and founded the University of Florida Small Animal Rehabilitation and Fitness Center (now part of the UF Small Animal Integrative Medicine Service). In 2010, she was awarded the Outstanding Young Alumni Award by UF. In 2013, she became a Diplomate of the American College of Veterinary Sports Medicine and Rehabilitation (DACVSMR).
Kristin has been a surgeon and rehabilitation specialist in Seattle since 2010. She practices at Animal Surgical and Orthopedic Center and is the Medical Director of SOUND Veterinary Rehabilitation Center. She specializes in seeing dogs with hip dysplasia, elbow dysplasia, cranial cruciate ligament rupture, and arthritis.
Kristin is past-president of the American Association of Rehabilitation Veterinarians and is currently an instructor for the Canine Rehabilitation Institute. In 2018 she was the recipient of the John J. Sherman Award for Excellence in Veterinary Rehabilitation. She is a frequently invited speaker at national and international veterinary conferences and has authored numerous journal articles and textbook chapters related to veterinary surgery, pain management and rehabilitation.  Kristin founded CARE in 2018 to provide valuable tools and resources for her clients and veterinary colleagues, as well as those caring for dogs with arthritis around the world.
She doesn't leave the world of rehab behind when she goes home. Her husband, Aaron, is an occupational therapist/certified hand therapist and owner of MoveMend, a physical and occupational therapy practice focused on bridging the gap between injury and activity. Kristin and Aaron are proud parents of Beans (Frenchie) and Arrow (Labrador). In Kristin's rare spare time she enjoys running, snowboarding, hiking, yoga, and travel.

CARE is proud to a strategic partner with IVAPM