Guest post by Monica Heft 
Do you use turmeric for your dog? When you become a dog owner or pet parent, you want to give them the best of everything. From taking care of your pet's exercise routine to meals, you want to do everything to keep your pet healthy and active. Many pet parents look to supplement their pet's diet with natural products that might be able to help reduce inflammation and possibly provide additional health benefits. Adding a little spice in the form of turmeric – and its active ingredient curcumin – to your dog's food might be something you consider.

When it comes to spices, turmeric is found most commonly in Indian cuisine and has been touted as having many holistic health benefits. Today, we will discuss whether turmeric is also safe for your dog and some possible benefits.
What is Turmeric?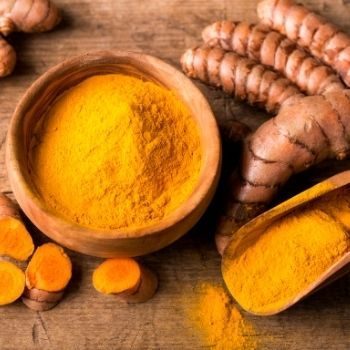 Turmeric is a deep-yellow spice often found in curry dishes; the herb has a very earthy flavor and is used in Thai and Indian cuisine. People also use turmeric for medicinal purposes because of its anti-inflammatory properties. Studies have found turmeric to be safe for your dog, with some improvements in the signs of arthritis. As the spice has anti-inflammatory properties, it can reduce inflammation in dogs and even treat chronic arthritis.
You might have heard about curcumin, an essential ingredient found in turmeric that gives antiviral, antifungal, antioxidant, antibacterial, and anti-inflammatory properties to the turmeric spice. The herb has been used as a component of treating illnesses in people for many years.
Is turmeric safe for your dog?
People around the world have long used turmeric to reduce inflammation and aid in healing, and more studies have been done recently looking at the health benefits for dogs as well. Research has shown that it can provide benefits to your four-legged buddy when given in small quantities. Turmeric is also used in conjunction with drugs such as arthritis drugs, bowel disease drugs, steroids, chemotherapy, and anti-inflammatory drugs.
The benefits of turmeric for dogs:
The anti-inflammatory properties of turmeric

The inflammation occurring in the body is a natural response to trauma or infection. For example, if your dog is injured, the body will react by stretching the blood vessels to increase the blood flow. The increase in the blood flow causes swelling and pain. And it is more common in dogs with arthritis. The inflammation can occur in the joints, which can lead to stiffness and pain. Inflammation has also been linked to allergies, cancer, arthritis, kidney, and heart diseases, among other conditions.

Turmeric's antioxidant properties

The free radicals present in the dog's body can destroy the blood cells, leading to aging and degeneration. These free radicals can enter from unhealthy food, pests, pollution, and more. The antioxidant properties of turmeric can help fight these radicals and prevent cell damage.

Turmeric helps to fight arthritis

At least 1 in 5 dogs will develop arthritis at some point, and that's likely on the low side! Arthritis is also the leading cause of pain in dogs, and contributes to what many of us see as their dogs "slowing down." Studies have found a reduction in pain and inflammation in dogs that have turmeric added to their diets.
Types of turmeric for dogs:
There are several ways to give turmeric to dogs, such as paste or liquid mixed with their food or as supplements in the form of pills and chews. Mentioned below are some ways to give turmeric to your dog-
Powder– Turmeric powder can be mixed with either coconut or olive oil and ground pepper to create a paste added to the dog's meal. Once made, the paste can be used for up to two weeks; however, it is better to use it with wet food. One tablespoon for large dog breeds is considered beneficial; for medium-sized dogs, half tablespoon, and smaller breeds, one-fourth tablespoon is sufficient.
Liquid– Turmeric liquid is more beneficial for dogs as it can get absorbed quickly. Similar to the paste, the dosage would be similar as listed above.
Chewable tablets– You can also add supplements to your dog's diet in the form of turmeric chewable tablets. The chews come in various flavors such as bacon and liver which can make them more appealing to dogs.
The side effects of turmeric:
Although turmeric is a natural ingredient, that doesn't mean your pup can't experience side effects or negative reactions. Turmeric is a blood thinner and must not be given in excessive doses as your dog can get bleeding issues. Turmeric is considered a warming spice, so if your dog overheats easily, you would want to avoid giving turmeric. The herb does combine with certain medications, which includes diabetic and anti-inflammatory drugs. Turmeric is generally considered safe with health benefits, but as always, please talk to your veterinarian before giving any new supplement or medication to your dog. And always include all supplements and natural products when informing your veterinarian about anything your dog takes.
If you observe any abnormal signs or symptoms in your dog after consuming turmeric in any form, you must immediately contact your veterinarian.
Conclusion
In the end, as pet parents, we just want our dogs to live active, healthy lives. It hurts to see your canine suffering from joint pain, cancer, or other ailments! Turmeric might be an option for your pet to help reduce inflammation or joint pain. The only thing you need to remember is to give turmeric in small quantities to avoid any side effects.
Author Bio
Monica Heft is a dog lover who is always interested to know and share engaging information about different species with the world through her blogs. She is still concerned about pets and writes about them.
References:
Comblain, F. et al, A randomized, double-blind, prospective, placebo-controlled study of the efficacy of a diet supplemented with curcuminoids extract, hydrolyzed collagen and green tea extract in owner's dogs with osteoarthritis, BMC Vet Research, 2017
Comblain, F. et al, Review of dietary supplements for the management of osteoarthritis in dogs in studies from 2004 to 2014, J Vet Pharmacol Ther, 2016
Moreau, M. et al, A medicinal herb-based natural health product improves the condition of a canine natural osteoarthritis model: a randomized placebo-controlled trial, Res Vet Sci, 2014