With these 5-ingredient, easy-to-make Peanut Butter Oaties, you can make a special occasion treat for your pup in less than half an hour. They can be frozen or refrigerated to be stored longer.
These will have the consistency of a soft granola bar when baked.
Remember, treats should only make up 10% of your dog's total daily caloric intake! At 44 calories for a medium-sized treat, these are a treat your dog can enjoy on special occasions but not every day. For dogs that are less than 30 lbs, cut the treats in half to reduce the calories.
Talk to your veterinarian about how many calories your dog should be eating daily to maintain an ideal weight. Once you know that number, then you can figure out how many calories they can get from treats (10% of their daily total).
You will need: 
1 ripe banana (mashed)
1 medium apple, diced
1 cup old fashioned oats
1/2 cup natural peanut butter (we used crunchy)
1 tsp cinnamon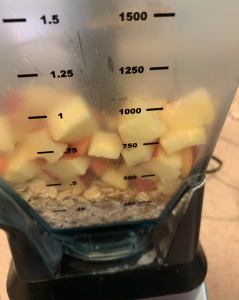 To make your Peanut Butter Oaties: 
Preheat your oven to 350 degrees. Lightly coat a large baking sheet with non-stick spray.
Add the oats, diced apple, and cinnamon to a blender or food processor. Pulse for 30 seconds until everything is blended.
In a bowl, mash the banana and mix with the peanut butter. Add in the oat/apple mixture and stir.
Using a half tablespoon, scoop out the mixture onto your baking sheet.
Bake at 350 for approximately 20 minutes until lightly browned.
Makes 30 small cookies. Allow the Oaties to cool for 10 minutes.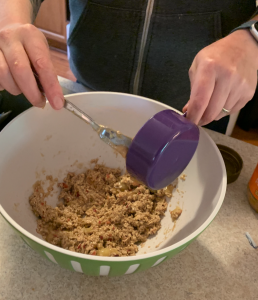 If you want to know low-calorie treats you can give your dog, check out our article on how many calories are in treats.